When Should I Refinance my Auto Loan?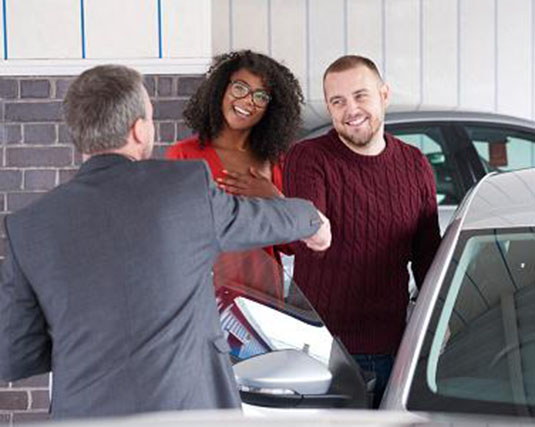 Refinancing your auto loan can help bring down your monthly costs or reduce your interest rate. Be sure to crunch the numbers before applying in order to find the best deal for you.
Are you unhappy with your current auto loan? Maybe it's time to consider refinancing.
The principle behind auto loan refinancing is simple: You take on a new loan to pay off the balance on your existing auto loan. If you're struggling with a high interest rate or an unaffordable monthly payment, refinancing could be the key to finding better, more favorable terms.
Refinancing your auto loan could help lower your monthly payments by lengthening the term of your repayment. Or it could help you save money through a lower interest rate.
Consider refinancing if
You want a better interest rate
You might want to consider refinancing if interest rates have dropped since you took out your current loan or if your credit health has improved.
You financed your current auto loan through a dealership
Dealerships may not offer you the best rates available. If you took out your loan through a dealer — especially without negotiating the interest rate — refinancing could potentially save you thousands of dollars over the remaining life of the loan.
You want lower monthly payments
Are you having a difficult time covering your monthly payment?
Refinancing for a longer term can bring down your monthly costs and make balancing your checkbook more manageable.
The answer depends on your individual situation, but let's say your current loan balance is $20,000 at a 6% interest rate with a five-year (60-month) payoff time frame.
Keep in mind that while lower monthly payments may help you in the short term, a longer-term loan could put you at more financial risk. You may be stuck paying off a large portion of your loan after your car's value has significantly depreciated.
If your immediate goal is to reduce your monthly expenses, an auto loan refinance could still be a good choice. Consider refinancing now but increasing your monthly payment once your financial situation has improved.
You can always enter your desired loan terms into an online debt repayment calculator to see if refinancing could reduce your monthly payments and how much your total interest cost could decrease.
You won't be penalized for repaying your existing loan
Refinancing your auto loan means paying off your existing loan early. This could be a problem if your existing loan contract includes a prepayment penalty clause.
Take a look at your contract to see if you'll be charged fees for early repayment. Before applying for auto refinancing, make sure to crunch the numbers so you can determine whether prepayment fees would cancel out the financial benefit of refinancing.
When is the right time to refinance?
When your credit health has improved
Your credit scores are a factor in determining your auto loan rate. If your scores have gone up since you bought the car, and you've made on-time car payments, you might get a better rate, which could save you money in interest over the life of the loan.
Lenders may use your FICO® Auto Scores or base credit scores to help determine your creditworthiness. But no matter which they use, better credit scores can indicate to lenders that you're more likely to pay off your loan, so they may give you a lower rate.
Not sure if your scores have improved? On Credit Karma, you can get your free VantageScore 3.0 credit scores from TransUnion and Equifax.
When you're not under water on your current loan
Generally speaking, it's easier to find a lender who'll work with you when your car is worth more than your remaining loan balance.
New cars can lose about 20% of their original value within the first year, and an average of 15% to 25% each of the next four years, according to Carfax. So time is of the essence.
Some lenders won't even consider refinancing an older car. Capital One, for example, only refinances loans for vehicles that are seven years old or newer.
If your car is relatively new and still has equity, now could be a good time to refinance.
How difficult is it to refinance?
Each lender has a variety of requirements. It can be difficult to sort through them all, but Credit Karma can help you narrow down some of the options.
One lender requirement you'll want to be aware of is mileage.
LendingClub will refinance a personal vehicle with fewer than 120,000 miles. But for some lenders, lower mileage could mean better rates. Navy Federal Credit Union, for example, offers loans with rates as low as 1.79% as of May 2020, but only for vehicles that haven't logged 7,500 miles or more.
Also, be aware that some lenders may not refinance loans for your vehicle's make or model. For example, if you drive an Oldsmobile, Daewoo, Saab, Suzuki or Isuzu, you can't qualify for an auto refinance loan through Capital One.
You may also need to look outside your current lender for a loan. While some lenders, like Bank of America, will refinance an existing loan they've given you, other lenders won't.
Does applying for an auto loan affect my credit scores?
If the lender pulls your credit, your loan application will show up on your credit reports as a hard inquiry. While hard inquiries can affect your credit, each one may only knock a few points off your scores. And shopping around may not hurt — depending on the credit-scoring model, any auto loan inquiries that take place within a given time span ranging from 14 to 45 days will count as a single inquiry.
Next steps
Refinancing your auto loan can help you access new payment options that better fit your needs.
Whether your credit has improved, interest rates have gone down or you've found a lender who can offer you better terms, it might be the time to refinance. First, make sure you do the following:
Confirm your current monthly payments, APR and the length of your loan.
Compare refinance offers and be sure you understand how much you'll pay in interest over the life of your loan. An online auto loan calculator can help.
Contact Education First and let us crunch the numbers for you. We might just be able to help you save money. Give us a call us at 614-221-9376 or email us at msimmons@educu.org. We are here to help walk you through the process and answer any questions you have.